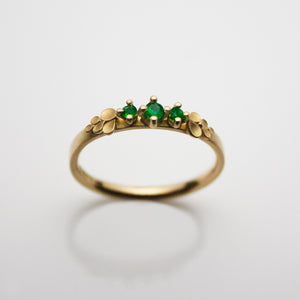 Dagmar Korecki Jewellery
Dahlia Bow 18ct. Gold three Stone Emerald Ring
Sale price Price $1,939.00 Regular price Unit price / per
Beautiful 18ct Gold Dahlia three stone Emerald Ring.
This design creates a wonderful colour contrast. It is made with 5 small petals on each side, on a 2mm D shank Ring, and finished with a matt surface finish and burnished edges.

Through time, Emeralds (May Birthstone) have been known as a symbol of truth and love. In ancient Greece and Rome, emerald was said to be the gemstone of the goddess Venus, purveyor of love and hope. On the other side of the world, emeralds were revered by the Incas and believed by the Egyptians to be a source of eternal life.
St. Hildegard of Bingen, the noted lithologist, declared,
"All the green of nature is concentrated within the Emerald."