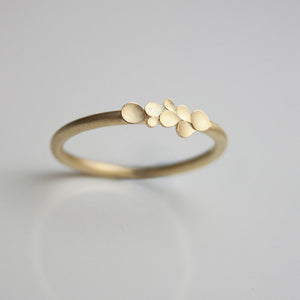 Dagmar Korecki Jewellery
Dahlia 18ct. Gold Ring
Sale price Price $947.00 Regular price Unit price / per
This is a slightly more delicate 18ct. yellow gold Dahlia Ring that has a 1.2mm wide round ring shank.
The muted design symbolises peace and simplicity. 
It holds 8 petals, which represent infinity.
 The Ring shank on this Dahlia Ring is 1.2mm round, slightly thinner than on the classic Dahlia Ring.
The symbolic meaning of the Dahlia Flower:

When given as a gift, the dahlia flower expresses sentiments of dignity and elegance. It is also the symbol of a commitment and bond that lasts forever. The dahlia flower is still used today in gardens and flower arrangements to celebrate love and marriage.

This ring is made to order, please indicate your ring-size when ordering, i can also make half ring sizes, please get in touch if you require a 1/2 size. 
Also available in 18ct. white gold & 18ct. Rose Gold.